I hope you all had a great week! I know I sure did. After a very long week of Mr. Serene being out of town for work, we were finally able to get some good quality time together.
The hubs and I were able to head up to a beautiful lodge in Ely, MN this past weekend for a wedding and let me just tell you, the food there? FAN-FREAKING-TASTIC!!! This wedding had a taco bar ya'll!! If you are planning a wedding, this is an amazing idea! Everyone was
raving about how cool it was (and how delicious of course!). I may have had eyes bigger than my stomach. Please don't let that deter you from sending me a wedding invite. I promise to behave next time.
While we were away, my father in law was at our house finishing up the sanding and priming of our basement. He is so generous to give his time and talent.
I came home to this!
Once I saw our beautiful blank walls, I started to think about how I was going to fill them up. I'm sure by now you've figured out that I'm pretty cheap. I don't like to pay a ton of money for anything! In fact, I'm pretty sure that even if I were super wealthy, my cheapness gene would over ride any irrational expensive purchases.
I am wired this way, I'm certain of that. I blame my mother.
So for funnsies, I thought I would show you some of the artwork that I have hanging in my home that barely costed us a thing. There are so many ways to add a custom element without breaking the bank.
Let's take a look at my son's room first. When I was pregnant, I found a picture on Etsy that I was IN LOVE with from
HopSkipJump Paper
. Unfortunately, I was horribly broke :(
I wanted to create that same image I had found with out having to spend money I didn't have so I ran to Microsoft Word and got started. I had my husband print it out for me using his "fancy" printer and then framed it with a frame I already had.
my version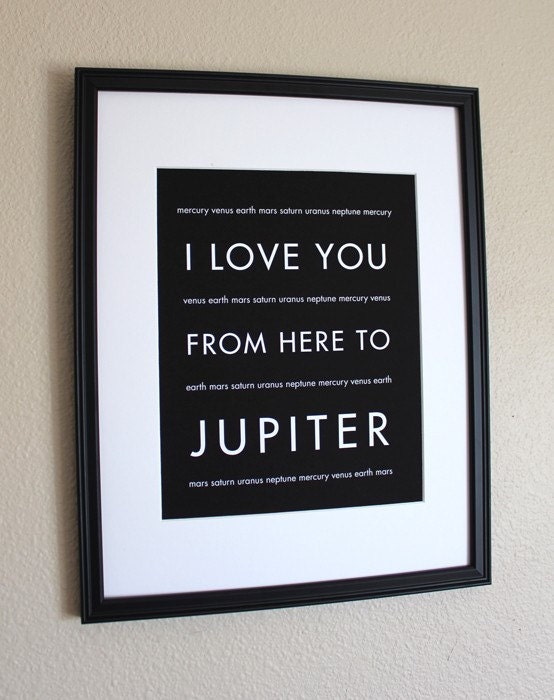 Hopskipjump Paper's
original
(please note, that while I created a similar image as this artist for my personal use. I have not in any way recreated this image for resale. DON"T DO THAT! Please respect other's artwork and creativity.)
If you are interested in a similar design,
HopSkipJump Paper
has an incredible amount to choose from and you can customize the location and colors. She also has a ton of other designs and prints to choose from.
I also created this custom rocket ship artwork by cutting out pieces of scrapbook paper and taping them to another piece of paper. Frame it all up and you have something that I'm sure would sell for a pretty penny at a store.
Another one of my favs is an old vintage map that I found at flea market. The map was only $10 so I scooped it up :) It had all of my favorite colors in it and I had the perfect frame in mind. It has received a ton of attention at our house!
And last but not least, my lovely birds! My mom scored these frames for $1 each at Goodwill with me in mind. She knows me so well :) I had just painted my guest room a mustard-y color and loved the pop of blue that would go with the walls. The color is Martha Stewart Dune but this picture really makes it look dark. I promise that if you were to see it in person, it's not this dark! I have big plans for this room, but not a big budget so it's taking a lot longer than expected, ugh.
I searched online and found some matching vintage looking bird prints and saved them to my computer. I emailed them to my husband at work, told him the dimensions and BAM...I had new artwork.
Gotta love that man for putting up with my crazy demands. I can only imagine what goes through his head when he gets emails like that from me without knowing what I'm up too.
(This picture turned out terrible but I'm sure you get the point, cause your smart like that. Yeah, I'm talking to you ;) I think your smart. )
What awesome artwork have you created for your home lately?